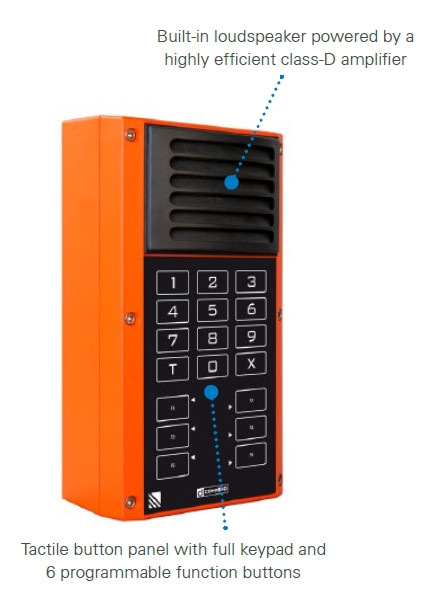 The EE 7000H series intercom station is a wide range of applications
The EE 7000H series station versions provide exactly what both users and local regulations require.
Based on a durable, corrosion-resistant and lightweight polycarbonate housing, the EE 7000H series enables simple and quick installation, eliminates costly routine servicing and significantly reduces maintenance costs.
Additionally, the IP66 certification and a wide allowable temperature range make industrial intercom stations an excellent choice for a wide range of applications. Thanks to high-quality microphones and 16 kHz eHD Voice sound, the EE 7000H series offers the highest speech intelligibility.
The new intercom station in the C&C Partners offer is easy to integrate with any voice system
Even in very noisy environments, the two powerful built-in speaker amplifiers and the plug-in PA speaker ensure crystal clear sound. In addition, the microphone and IVC (Intelligent Volume Control) function allow you to automatically adjust the volume to the surrounding noise - even during playback.
As the devices support both IoIP and SIP (hybrid) solutions, the stations can be easily integrated into any Voice over IP system, including the existing Commend intercom system. The required operating mode is selected with the configuration software.