An innovative parking management system by C&C Partners
Parking solutions offered by C&C Partners have been developed within the TKH Group. They consist of individual systems that can operate as individual solutions or as an integrated parking system, guaranteeing modular expansion, and open interfaces for other devices operating in the facility. The parking technologies provided are individually tailored to the investor's needs and are perfect for both P&R public car parks and shopping centers.
Navigation of parking slots
One of the systems that improve communication in the car park is the ParkEyes system for locating and indicating free parking space by TKH Security. The system is constructed on cameras monitoring every single place. It increases the safety of parked vehicles while allowing the use of sensors to generate and increase income. The main feature of the ParkEyes system is the ability to find a parked car by information kiosks located at the car park entrances or the app.
Lighting
We supply modern parking navigation systems with EVO series light fittings from BB Lightpipe. Designed following the Cradle-To-Cradle concept, it significantly contributes to reducing CO2 emission and the carbon footprint.
Big Data in the car park
Nowadays, a visit to a car park has become the subject of intense research and marketing analysis aimed at better reaching the needs of customers, residents, and travelers.Our response to this are applications that collect and analyze various information and can be personalized according to the needs of our contractors.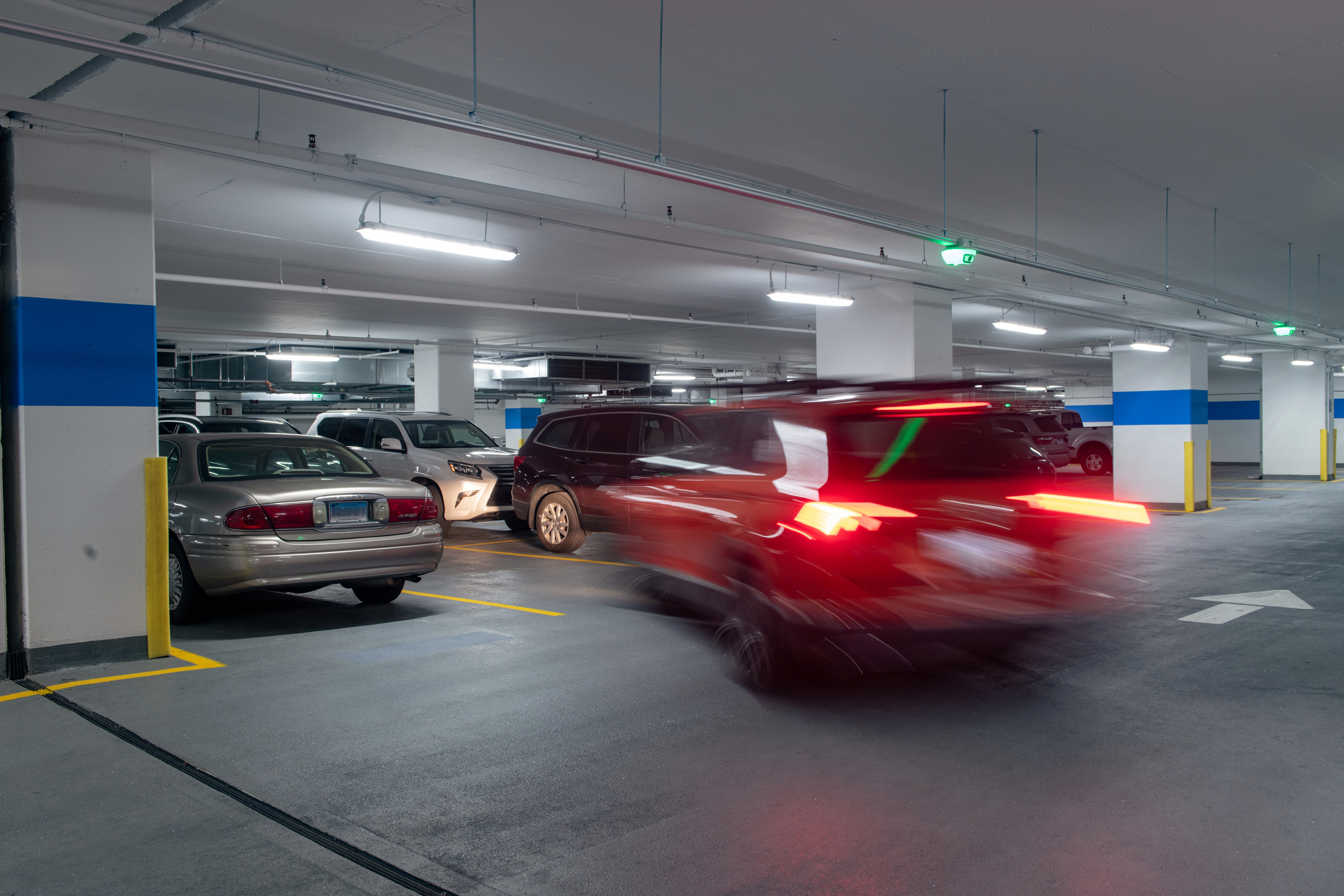 Dedicated software
As a technological partner, we realize software projects for the parking industry. Opening the gate based on the reading of license plate numbers from LPR cameras or a smartphone is a solution that replaces outdated remote controls or access cards. It is a standard for us to integrate parking systems into one system that will allow efficient management of multiple car parks in a dispersed structure or one car park in a complex building system.
Basic distinguishing features of parking solutions
car parks traffic and security control carried out from the remote supervision center,

cooperation with parking toll collection systems implemented in all available technologies and scenarios,

collecting statistics and marketing data on visits to the car park,

information on availability and the possibility to reserve a space before you enter the car park,

video monitoring of each parking space with automatic detection of unwanted events.
The functional scope of parking solutions
entering the car park based on automatic recognition of an authorized license plate or electronic access card,

granting access to dedicated parking zones depending on permissions and / or subscription,

navigation to the nearest, most convenient, free parking space,

management of parking spaces equipped with electric chargers,

searching for a vehicle in the parking lot by a mobile application or an info kiosk,

voice communication as part of providing information or calling for help and broadcasting messages, music or advertising content,

illumination of the entire parking area, activated by vehicle detection or the presence of pedestrians alarming in case of fire or gas detection,

automatic detection and quick entry of emergency vehicles.